Over 60++ Statistics
IT'S HOT!!
TurboStats for Soccer ver 1.0 NOW AVAILABLE

TurboStats for Soccer features complete Offensive, Defensive, Goalkeeping and "User Defined Stats". Create unlimited games, add players to game and just point and click to add player statistics. Enter games in only a few minutes directly from your scoresheets or turn on Game Mode Scoring and track the game play by play. including complete opponent's stats.

Windows 95, 98, ME, NT, 2000 or XP

Click here to download "winsocc.exe"

Sample Screens

Track Unlimited Teams

Up to 100 Players per team
Store names, address, phone numbers, uniform number and player notes
Autodial phone numbers
Import names from other file formats
Unlimited notes for any player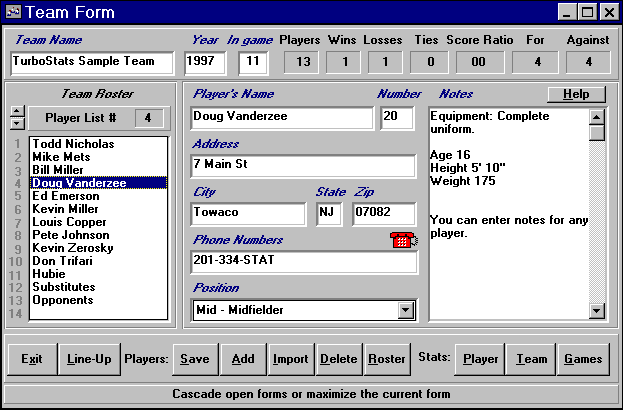 Drag n Drop Field Layout Screen

print lineup cards
almost an unlimited number of alignments to choose from
store 10 different layouts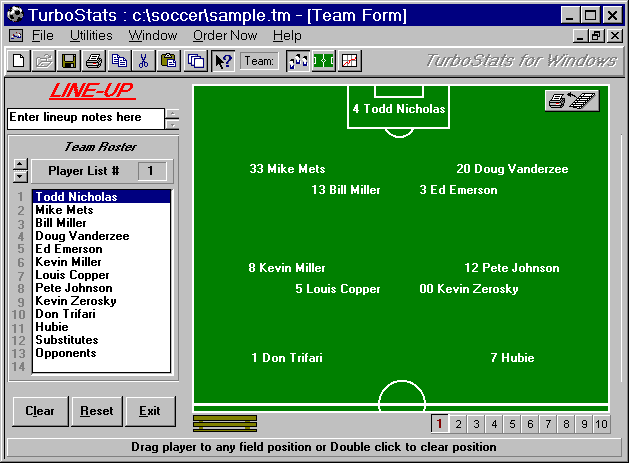 ---

Enter Unlimited Games
Use during or after the game
Live game clock available for during game use
point and click data entry ( or use keyboard )
Breaks down games by Season, Playoff, Tournament, Etc.
Enter notes for any game
Plus much more....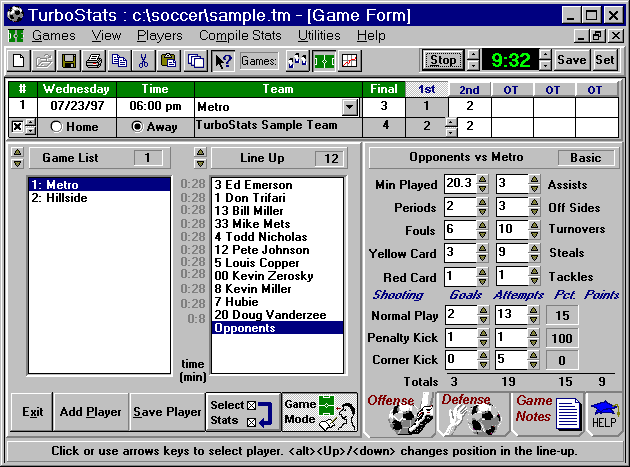 Click on the tabs to change from Offensive, Defensive ( goalie ), and Game Information

---

View, Sort and Plot over 60 Statistics

Plot any stat with one click
Sort by any category
Set your stat order
Fully customized stat headings and report titles
Print using any Windows font
Player, Team, Game, & League Reports
Plus much more....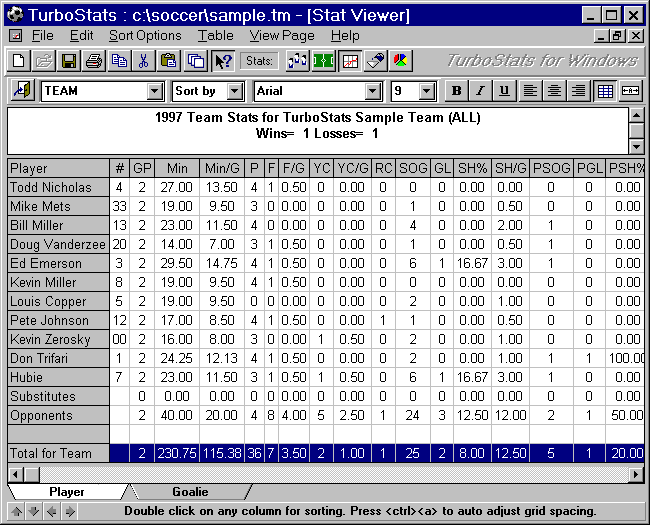 Questions ? Click to send email to support@turbostats.com

Minimum System Requirements: Windows 98, ME, NT, 2000, XP. 8 MB minimum memory. 4 MB free disk space.

List Price $69.95 ( save $10 by ordering electronically )
How to Order: All TurboStats Software comes with a 60 Day Money Back Guarantee.

4 Ways to order

1. Call us at 1-800-60 STATS ( 800-607-8287) in the USA or at 1-973-334-7828 .

3. Mail your name, address, phone # and check, or money order (drawn on a US bank) to :

4. Fax us at 973-334-9566

TurboStats Software - P.O. Box 144, Towaco, NJ 07082

VISA, MasterCard, AMEX & DISCOVER

Copyright (C) 1996-2003 TurboStats Software Company