All New Metrics, Efficiencies and Four Factors
"Coaches, if you need a great stat program with ability to webcast and track all the basketball metrics stats built-in, TurboStats is for you."

- Jerry Mullen, Top National College Scout, 25 years

25 Years of Statistical Experience

Outstanding Live Scoring, No App comes close

Easy to learn and use, train in minutes

Simple for youth or high school to advanced for college or Pro

Score live, post-game or by video

Over 100 Statistics, Metrics, customizable efficiency and per minute stats

3 ways to sub, drag, swipe or 1 click

New sorted "check-In" sub bar preselects subs, then just swipe them in

Advanced Metrics updated live

Game 4-Factors updated live

Tracks all your plays and defenses

Track offense with different point guard

Remote wireless play selector for coach

Webcast for free (1st year )

Free Team Website, 1-Click setup

5 Player Combination Reports

Auto tag video while you score

New Shot Clock and Scoreboard work on a Windows extended display
(HDMI, USB or Wireless Display)

Guaranteed to be the best stat program you ever used or your money back!


Have Your Stats Available During a Live Game, No More Waiting 24-36 Hrs for Film Breakdown or Paying over $800 for a Stat Service. Use Live Data to Help You Win!



Used by UCLA and other top schools
Used at the 2015 Top Junior College Showcase

Optional: Store All Your Tagged Game Video on your Computer and Watch tagged Video Anywhere.
No Internet Required!










How it Works
sample animation of an earlier version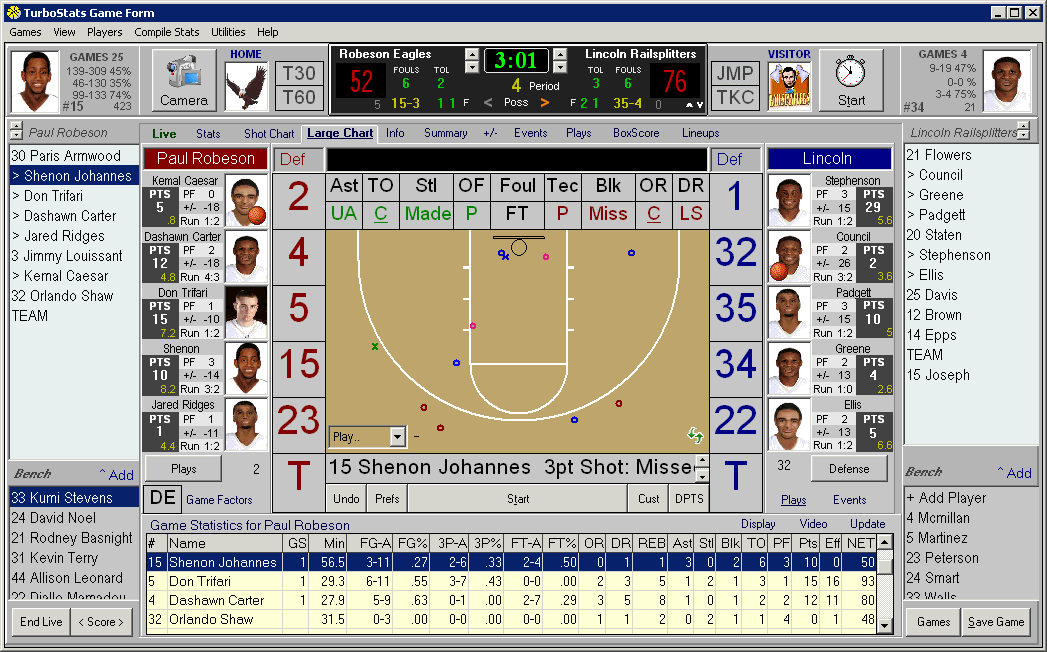 Customizable Active Player Display Options
New TurboSub: Make Substitutions in 1 Click
Photos
Actual Rebound Percentage
Rebounds-Opportunities








In Tally Mode enter all active players into the game for both teams.

Great for camps, practice or tournaments when keeping track of subs is difficult

Highlight any player and just tap any of the Stat boxes to increment by +1

No Subbing Required!



Note: Many metrics will not be available in tally mode including 5 player combination reports.

OPTIONAL Tally Mode Scoring See Setting Up Tally Mode



Partners with


TurboStats Minimum System Requirements: Windows 7, 8, 10, Vista & XP. 10 MB Disk Space.

CyberLink Video Processing Requirements (Ultra Only): Windows 7, 8, 10, Vista or XP SP2. 512 Ram for XP or 3GB Ram for 32 bit OS. 5GB Hard disk Space

All Screens Copyright TurboStats Software Company 1992-2015

MaxPreps is a registered trademark of CBS MaxPreps, Inc., a CBS Company. CyberLink PowerDirector is a trademark of CyberLink Corp. Hudl is a registered Trademark of Agile Sports Technology Inc.