To Print Multi Page PDF files for the coaches or media use PDF Redirect (download here).
Trouble seeing YouTube videos in the video editor? Try the YouTube Patch first. Then if you still have issues visit this page for more settings Fixing YouTube Playback
What's new in each update:
Version 11.2p
1. Much improved CSV roster importer that works with Google sheets CSV
2. Fixed the video delay factor in the Gamecast with a video
3. Fixed compiling Tackles for Loss for unassisted tackles posted from Live Scoring
Version 11.2o
1. Much improved MaxPreps roster importer with edit and rescan
Version 11.2m
1. Added support for modifying yards for a first down for 6 man football
Version 11.2l
1. Added More Penalty Types like Personal Foul and Illegal Block
2. Changed Pass Interference to 15 yards
3. Added Link and Copy icon in the box score upload tool
4. Added Edit Button on box score to allow edit of scores by period
5. Addressed issue uploading opponent files to the Cloud Drive
Version 11.2k
1. Added scroll bars in the photo crop tool
Version 11.2i
1. Updated Hudl Export with play types and results
2. Support new MaxPreps output format
3. Supports faster teams website (optional upgrade)
3. Fix to EDIT in live scoring
Version 11.2g
1. Added option for no kickoffs after extra points, safety or fieldgoals
2. New prompt for finalizing the possesion time when you exit the game
3. Added option to not count an extra point run or pass in the play totals
4. Changed PAT F to PAT Failed in the boxscore
5. Fixed the XML setting to export all players to work for both home and away games (rosters got switched)
Version 11.2f
1. Added RELEASED and TRADED to the player position list
2. Fix for 4th downs made and 4th down efficiency
3. Prevent new box scores from refreshing and resetting back to the main screen
Version 11.2d
1. Added UNO and ROUGE for indoor football rules
2. Allow permanently setting the Gamecasting Mode On
3. NEW Boxscore for Website with graphical look vs plain text
Version 11.1m (beta)
1. Add Livestream option in LiveScoring (YouTube or PPV) with OBS scorebar
2. Support Enhanced XML including listing the entire roster and Enhanced Drive Summaries. Also prevents XML error if quarter is changed from 4th to 1st.
3. Support dual XML/Gamecast live output setting
4. Fix importing Rosters from CSV and directly from the MAXPREPS site
Version 11.1L
1. Fix for expired serial number resetting
Version 11.1k
1. Changes for Gamecasting including adding AVG for rush, reception, kickoffs, returns and punts in the Box Score. Plus fix for upload error when you have .5 sac yards.
Version 11.1j
1. Options for Flag Football to change Tackles to Flag Pulls. Support for TurboStats League Planner Pro site links. Fix to LG(PR) abbreviation.
Version 11.1i
1. Enhancements to CSV data importing to support Email address and import headers that contain spaces (which produced errors and prevented uniform numbers from importing).
Version 11.1g
1. Support for our new Team Website with links to gamecasting pages, team leaders, player photos and team logos. To create your site use the [TEAM WEBSITE] button on the Team form of TurboStats and press [Upload]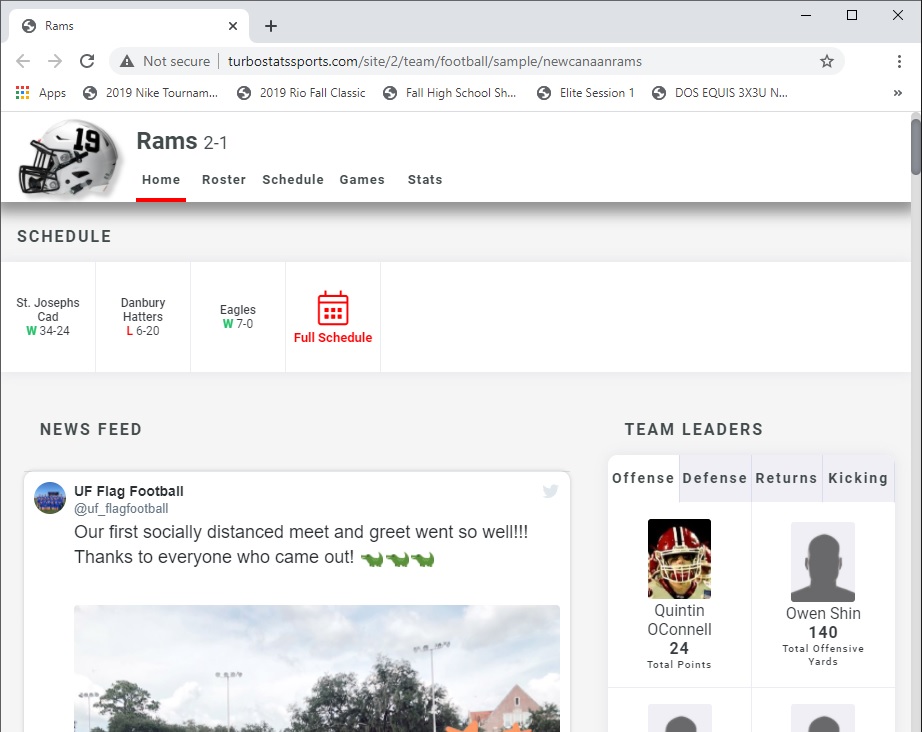 Version 11.1f
1. Added Tackled by to the play by play in the live gamecasting. Fixed PAT display in the live gamecasting.
Version 11.1d
1. New Scorebar for use with OBS (Open Broadcast Studio) for adding a live scorebar to a video stream. (i5 or i7 Processor recommended). Use your webcam or split your HUDL video feed with an HDMI splitter and use an HDMI to USB input device to bring in your stream into your laptop or Windows tablet. Add the TurboStats Scorebar for OBS into your mix and stream you live games to YouTube or Facebook for free. There are ways to use an ipad or phone camera in OBS as well.

Version 11.1c
1. Allows uploading of team logos in png or jpg for live gamecasting
Version 11.1a
1. New Gamecaster with video streaming and highlights See Sample Gamecast (note: This Gamecaster link will not view correctly in Internet Explorer, use a newer browser like Edge, Chrome or Firefox)
2. New YouTube score by video option links to videos on the web for post game scoring and Gamecaster replay playback
HOT!. Gamecast live stats and streamed video with instant replay and highlights right from your live scoring data. Works great post game from games scored by video too.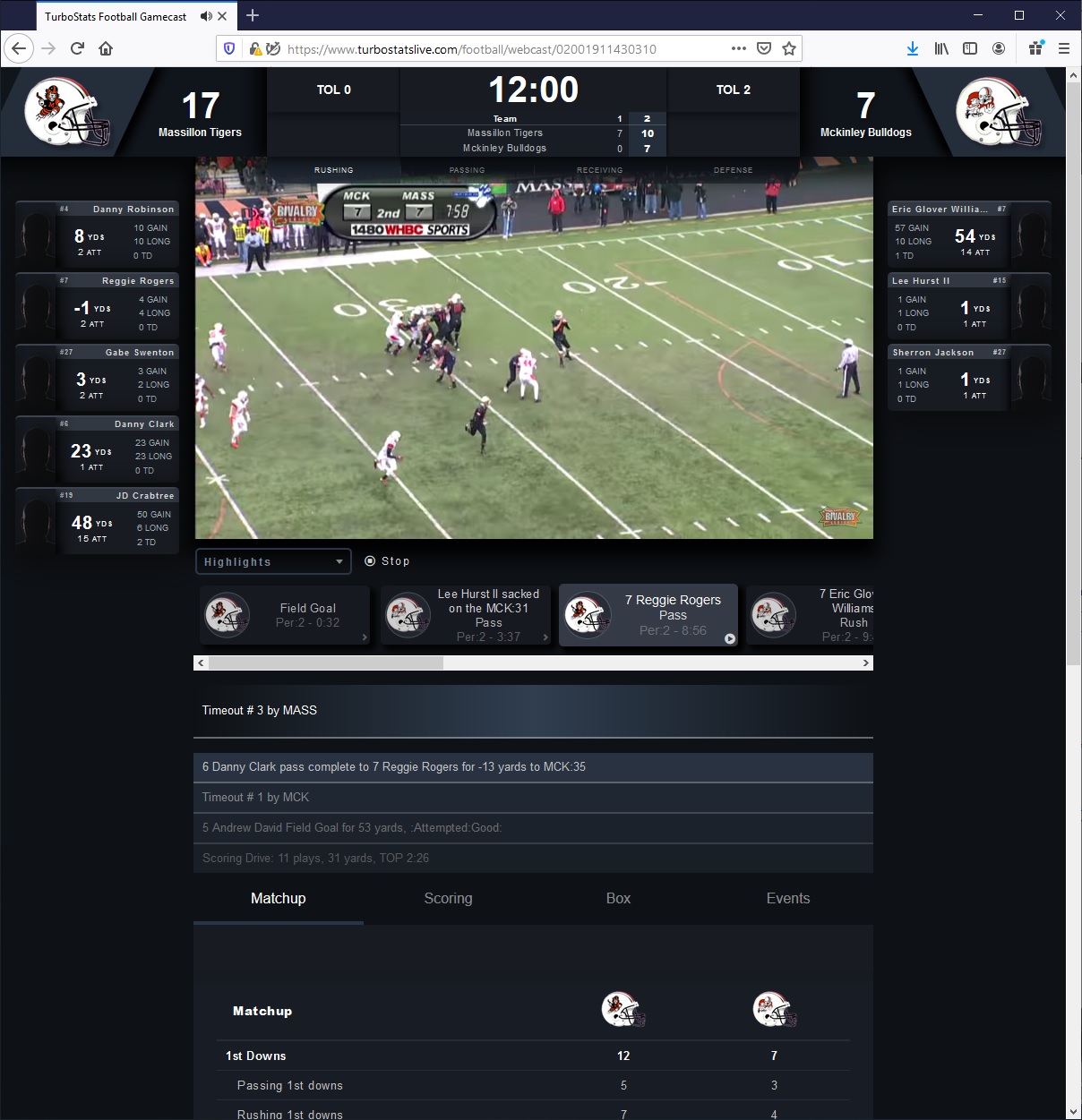 Version 11.0j
1. Updates to XML
Version 11.0i
1. New green screen for providing an HDMI greenscreen scorebar ticker for game streaming the score and time in the video. Video mixer hardware or software required.
Version 11.0h
1. New webcasting API beta that uploads over 5 times faster and works through firewalls and on mobile hotspots. [Optional: allows custom backgrounds and helmets with a TurboDrive Premium Webcast Subscription order here and send images to: support@turbostats.com]. Note: The original webcasting application is still included and you can choose your webcasting option. See Prefs>Display/Webcast>TurboStats API. Then start the webcasting by pressing Post> Webcast . see sample updated webcasting site
Version 11.0g
1. Fix to webcasting that swaps the scores by periods for away games
2. Improvements in printing all tabbed reports from the Stats tab. This supports PDF ReDirect printer driver and multi page printing.
Version 11.0f
1. New!! Possession time popup option to set the scoreboard clock each time a change of possession occurs. (see) Prefs > [Clock Control] to turn on.

1. Fix to prevent blurry startup screen on 10" tablets.
1. Fix to prevent uniform numbers from sometimes not loading in live game scoring.
Version 11.0e
1. Added Play by Play to Webcasting plus other Webcasting enhancements: for ProSeries, Ultra and Sideline pass
2. Fixed the EDIT command that was shifted over from version d
Version 11.0d
1. New Live Webcasting site www.turbostatslive.com/football/yourserialnumber.html
Version 11.0b
1. Supports R, L and M Hash options in Live Scoring
2. Improved ODK naming of pictures and videos which include Hash
3. XML Out includes tendencies and Hash data
Version 11.0a
1. Works with the latest MaxPreps website for importing rosters
2. Improvements to the Video and Photo recording scouting system and support from snapping photos from webcams.
---
Support Issues
1. I can't see my video in the Media Viewer:
Different cameras record in different compression formats. Each format may need its own translator called a Codec. If you install the software that came with the video camera on your computer, it should install the correct codec on your computer. If you switch computers you may have to install the codec files on the new computer.

How to Check your Video Codec Files: Start> Control Panel> Sounds & audio devices (naturally)> Hardware tab> highlight "video codecs"> properties> the properties tab will list all your codecs;

1. Q. How do I print in landscape mode ? A. Use the File>Print > [Setup] menu
2. Q. How do I delete a player from game line up? A. use the menu Players > Remove from lineup
3. Q. How do I print multiple reports on one page ? A. Use File > Page Setup > click off the [ ] page break box.
4. Problem: I get an error message starting TurboStats "component threed.vbx or one of it's dependencies is not properly registered".
Solution: Turn Off User Account Controls and Reboot see instructions